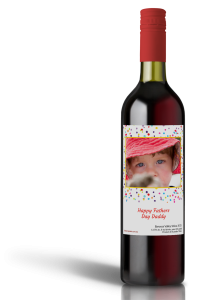 Father's Day is a special occasion that calls for an extraordinary gift to celebrate and honour the important men in our lives. When seeking a unique and thoughtful present, a custom-labelled bottle of wine or port stands out as a superb choice. Wine not only exudes sophistication but also carries sentimental value. Combining this exquisite beverage with a personalized touch demonstrates a level of care and attention that will undoubtedly make this gift unforgettable.
A custom-labelled bottle of wine allows you to add a personal touch to the gift, making it a cherished memento. Including the recipient's name, a heartfelt message, or photograph enhances the emotional connection between the gift and the recipient, showing just how much they mean to you.
Unlike many other gifts that may fade over time, a well-preserved bottle of port or wine will age gracefully, improving in taste and value as it matures. The gift becomes not just a gesture for Father's Day but a lasting keepsake that can be saved for future special occasions or even passed down through generations.
Wine is meant to be shared and enjoyed in good company. By gifting a bottle of personalised wine or port, you are creating an opportunity for your father to share this delightful experience with loved ones, fostering connections and creating lasting memories.
While ties, socks, and other common Father's Day gifts are thoughtful, a custom-labelled bottle of wine stands out as a departure from the traditional. It showcases your effort to think outside the box and select a distinctive gift that speaks directly to your father's tastes and interests.
A custom-labelled bottle of wine or port is a superb Father's Day gift that blends sentimentality, elegance, and celebration in one beautifully crafted package. It encapsulates your affection, appreciation, and gratitude for the father figures in your life, making it a truly exceptional gift choice for this special day of recognition.